This shop has been compensated by Collective Bias, Inc. and its advertiser. Product was provided by the client for review; however, all opinions are mine alone. #WorldsSmartestToothbrush #PhilipsSonicare #OprahsFavoriteThings #CollectiveBias
Give A Philips Sonicare DiamondClean For Christmas
My husband is getting a Philips Sonicare DiamondClean Smart 9300 Rechargeable Toothbrush for Christmas this year. I did not want to wrap the box and cover up the nice packaging, so I made a personalized Santa Hat to go on top of it. Here is why I chose a Philips Sonicare DiamondClean Toothbrush and how I made my Santa Hat. You too can give the gift of a healthy smile with a Philips Sonicare DiamondClean Toothbrush.
Why The Philips Sonicare DiamondClean?
The Philips Sonicare DiamondClean Smart 9300 Rechargeable Toothbrush is Philips' best ever toothbrush for complete oral care. 4 modes and 3 intensities let you focus on each aspect of your oral health: whole mouth, teeth, gums, and tongue.
The smart brush heads automatically adjust to the optimal mode and intensity level. Plus, you can connect with the Sonicare app to get real-time feedback and personalized coaching, giving you exceptional oral health results. This is one tech savvy toothbrush!
Where To Purchase Your Philips Sonicare DiamondClean
Amazon is the perfect place to purchase your Philips Sonicare DiamondClean. You can shop via the image below or click here.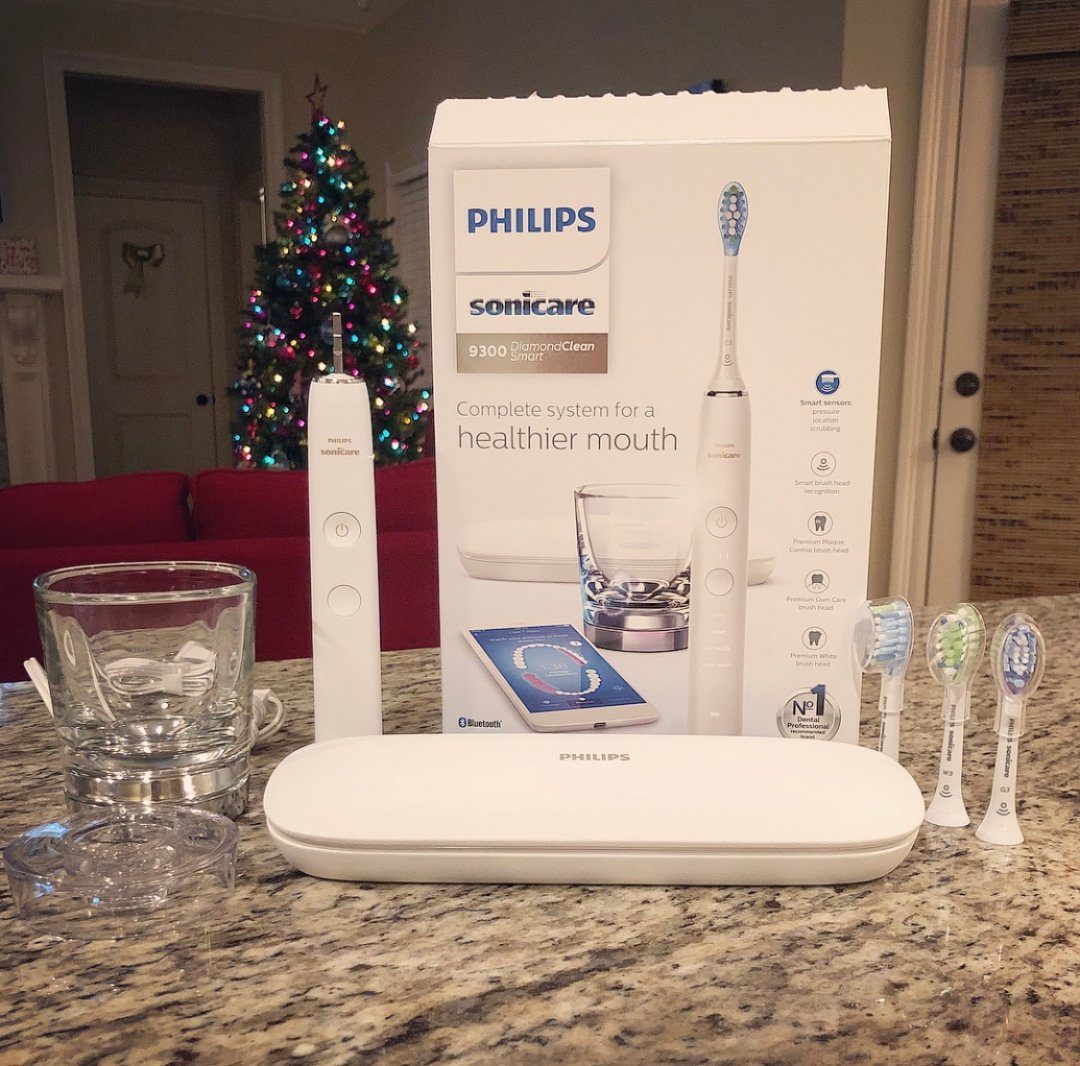 Here are the steps to purchasing your own Sonicare:
1. Go to Amazon.com
2. Type "Philips Sonicare DiamondClean Smart 9300 Rechargeable Toothbrush" in the search bar
3. Click on the Philips Sonicare DiamondClean (by Philips)
4. Choose which color you would like and add to cart
5. Check out
6. Wait for your Philips Sonicare DiamondClean to arrive!
How To Make Your Philips Sonicare DiamondClean Santa Hat
I am so excited to give my husband a Philips Sonicare DiamondClean! It's time that his toothbrush is as tech savvy as he is. I wanted to do something fun with the Sonicare box so that the packaging wouldn't be obstructed by wrapping paper, so I personalized a Santa Hat to go on top of it. It took me about 30 minutes from start to finish to make. Here is how you can make a personalized Santa Hat for your Philips Sonicare DiamondClean box, too!
Supplies You Will Need
Cutting machine
Philips Sonicare DiamondClean
Santa Hat
Heat Transfer Vinyl (HTV) in preferred colors (I used gold for the snowflakes and green for the name)
Piece of Parchment Paper
Directions
1. Set up your cutting machine. Open design software. Type the name of the Philips Sonicare DiamondClean recipient and pick out the font that you would like to use (I used BubbleGum). Size according to measurements of the fur on the Santa Hat (mine whole name was 5.6 x 1.6 inch). Find a snowflake SVG file online or from the image store and upload it to the design software. Size as you did with the name (mine were 1.1 x 1.25 inch). When you are happy with your name and snowflake designs, it is time to print them.
2. Put the HTV for the snowflakes on your cutting mat (shiny side down and don't forget to mirror the image). Hide the name text. Click make it. Hook the cutting machine to your computer and turn it on. Load your mat into the machine and follow the directions to cut. When finished, weed your HTV design and cut out the snowflakes. When your snowflakes are ready to go, set them aside. Go back to the design space, unhide the name, hide the snowflakes, and repeat with desired HTV color for the name.
3. Heat up iron (I set mine on 3-4). When the iron is hot, place the Santa Hat on your ironing board and arrange the HTV pieces as you would like. When arranged to your satisfaction, place parchment paper over the designs and start ironing (press straight down onto the HTV and hold for 5-10 seconds). Pick up and move your iron; do not rub it across the hat. Iron in 5-10 second increments until the HTV is attached to the Santa Hat. Peel off transfer paper, turn off iron, and throw away transfer and parchment paper. Place Santa Hat on your Philips Sonicare DiamondClean Box!
Enjoy The Holiday Season
The Philips Sonicare DiamondClean Smart 9300 Rechargeable Toothbrush is a great gift, no matter the recipient's age. Oral care is something that we should all focus on. Please share your Santa Hats on top of your Philips Sonicare DiamondClean box with us. We would love to see them!
Happy Holidays!
_________________________________________
Taylor Pittman Hardy wrote this article.